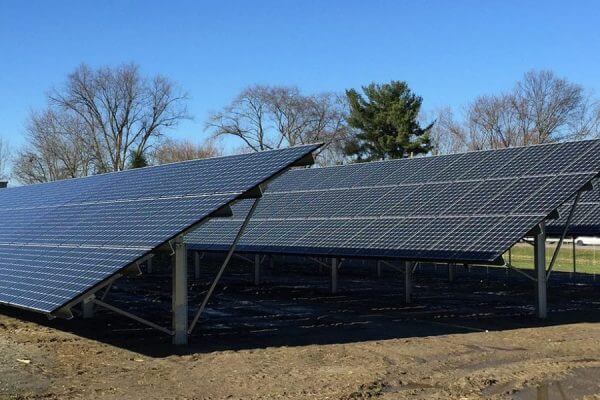 System Size: 203.67 kW
Annual Production: 280 MWh
Annual Savings: $25,200.00
Ground Mount Solar Panels by Pine Bush Equipment
Pine Bush Equipment is one of the Northeast's largest suppliers of heavy construction machinery. Family owned and operated for over 50 years, PBE's commitment to customer service and stewardship is inspiring.
PBE's Pine Bush headquarters in Orange County, NY houses a sizeable office facility as well as a commercial garage and warehouse. This operation has a significant annual electrical load, and it was their goal to offset as much of that load with solar as possible. After working through several design options, the project team settled on a ground mount installation which was broken into three long rows of panels sited along the north edge of their equipment yard. Special design accommodations were made at the customer's request to keep the footprint of the array as small as possible.
How Lighthouse Solar Helped
Lighthouse Solar worked extensively on the customer's behalf with local engineering and surveying firm Mercurio, Norton, Tarolli and Marshall P.C. to obtain the required permits and variances to gain town approval for the project.
Lighthouse Solar System Design Engineer Bryan McGurn comments, "We were able to work with the customer and racking manufacturer in order to consecutively increase the height of the panel rows from south to north. This allowed us to decrease the amount of space required between the rows while still controlling the row-to-row shade on an annual basis."
Since the installation this system's energy production has outpaced expectations and has generated 92% of the electrical energy required to run their Pine Bush operation.
"PBE was extremely satisfied with the team at Lighthouse Solar. They were there from the planning stages, approvals, building the installation and ultimately monitoring our results. It was a great to work with such a dedicated and knowledgeable company. The power generated has exceeded our expectations. We are so pleased with the results." – Holly Bodnar, President, Pine Bush Equipment