Hudson Valley Roof Mounted Solar Panels
Roof Mounted Solar Installation for Your Home or Business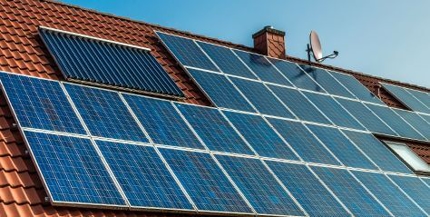 If you're interested in installing solar panels for your home or business in the Hudson Valley, one of the most popular solar panel choices are roof-mounted systems. At Lighthouse Solar, our team of solar installers can help you decide if roof-mounted systems are the best option for your home or if you should consider installing a ground-mounted system instead. You can count on us for reliable service because we put a focus on attention to detail and closely follow industry standards throughout the entirety of the solar installation process.
Call (845) 251-2012 to learn about the advantages of roof mounted solar panels and let our expert solar installers help you decide the option that would work best for your needs.
Solar Panels Mounted on the Roof
Roof mounted solar systems are a common choice. Solar panels can be mounted on sloped and flat roofs. We design custom solar systems that consider which portions of your roof will lead to the highest production.
Our Hudson Valley solar installers ensure that:
Solar panels are securely mounted
The areas where panels are mounted are sealed properly
The roof surface under the panels is waterproofed
At Lighthouse Solar, we have a dedicated in-house team to provide expert installation of solar panels. We are fully certified, insured, and your solar installations are covered with a performance warranty and a 25 year limited lifetime warranty.
Do Solar Panels Need Maintenance?
Solar panel systems are designed to be very durable. Due to this, they require little to no maintenance over their 25-30 year lifespan. However, while not necessary, an annual cleaning of the panels has been proven to increase energy output by 12% in comparison to panels that are only washed by normal rain water.
The best maintenance that solar panel owners can provide for their panels are regular inspections. Inspections by a certified technician allow a professional to ensure the panels are always in proper working order. It is good to have your system inspected once a year, but not necessary. Other maintenance that solar panels may need are addressing any repairs or problems that may spring up with solar panels.
Solar Panels Provide Affordability & Efficiency at Once
Joining the solar energy revolution is easier and more affordable than ever thanks to advances in solar panel manufacturing process and Lighthouse Solar's flexible financing options. With our competitive installation and maintenance prices, you can equip your home or business with a solar panel system customized exactly to our customers needs or specifications. Best of all, once your system is up and running, you will appreciate the dramatic reduction in your utility bills, giving you another way to save big thanks to the power of the sun.
Call Lighthouse Solar or contact us online to learn more about roof mounted solar panel installation in Hudson Valley and the surrounding area!
Customer Reviews
See What They Have to Say About Us
"We moved to Vermont about a year ago, and lately, we have been thinking about installing panels on our home. I've been talking to neighbors about who installed their panels, and their experience with the companies that did the work. In doing so I&rsq"

"Energetic, professional, and great to work with in every way."

- Rebecca E

"They were a joy to deal with."

- Jacinta B