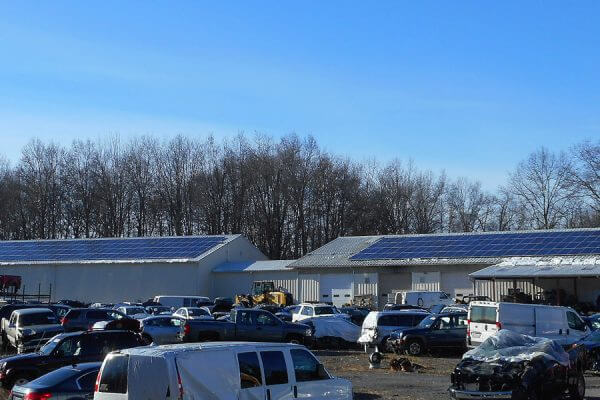 System Size: 92.16 kW
Annual Production: 100 MWh
Annual Savings: $10,000
C&H Salvage Corp is a family-owned Hudson Valley business supplying used auto parts to the repair trade and public since 1958. As a Gold Seal Certified Automotive Recycler, they ensure their business maintains the highest standards in the industry with regard to environmental, safety, and business practice concerns.
C&H is operated out of their 20,000 sq. ft. facility in Campbell Hall, NY. The site is comprised of three connected buildings which house office space, vehicle dismantling, and parts testing facilities. The 92.16 kW solar array is split into two equal parts, one on each of the main garage/warehouse buildings. The arrays are built using 288 Canadian Solar 320 watt solar panels feeding 6 Fronius Primo power inverters. Lighthouse solar worked extensively with the C&H team to ensure that both the system design and the installation procedure had a minimal impact on their business operation.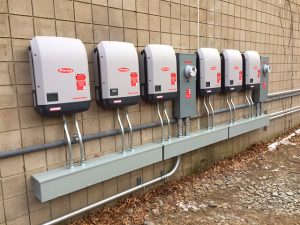 Lighthouse Solar's System Design Engineer Bryan McGurn comments, "This is an exemplary project for showing what we do here at Lighthouse Solar with respect to the commercial side of our business. We love working with like-minded, local business owners who see the value that solar can provide to their business and are willing to make the investment to realize that value."
This system will provide over 100% of the annual electrical load for C&H Salvage, and when combined with their waste oil heating system, makes them completely energy independent!